Welcome to the editors room. Here you'll find details about the MoneyCortex news service and how it's delivered to you. Our mission statement is:
"To deliver news affecting your personal finances in an easy-to-read and concise way. Facts should always overrule opinion. The service should be sustainable without a paywall or without filling pages from top to bottom in adverts."
Why MoneyCortex News Is Different
For a start we aren't part of a bigger organisation. This isn't an asset owned by a big newspaper or media company. We think that comes with certain benefits. Newspapers around the world often struggle with trustworthiness because of how they've chosen to report the news. We are lucky to not be part of that environment and can publish the news our own way.
The chief editor is Chris and he hits the publish button on all articles. A small army of freelancers also help with the website and it's content. The huge benefit of not having team of full-timers is lower overheads meaning less pressure to get controversial click-bait articles out like other news outlets have to in order to pay their staff and make profits. We can run a different business model.
Simplicity is a focus on this website. Just because another site runs a story with 500 words in the content, it doesn't mean it needs that many. We prefer to focus on what matters and try to present the information in a pleasant looking and digestible way.
Regions
MoneyCortex is based in the United Kingdom but has freelancers around the world working on it. We publish news content that has a global impact as well as regional specific content. Currently the main regions we support are:
United States
United Kingdom
Australia
Canada
Republic of Ireland
India
We hope to officially support more in the future. In the sidebar (or footer in a mobile device) while reading stories there's an option to filter by your chosen locality to only see what's relevant to you. Here's how it looks.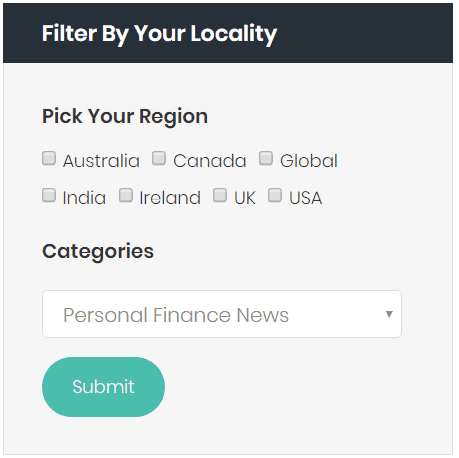 Accessibility
We want you to be able to digest our news articles when you want to and without hassle. On the sidebar (or footer in a mobile device) of every news post you will see links to help you keep up, whether it's via RSS, bookmarking us or following on social media. Whatever suits you best, it's up to you.
All new articles have Speakable Schema data because we hope to eventually be apart of text-to-speech services, such as gadgets powered with Google Assistant.
A free Android app is also due to be launched in summer 2019.
Google AMP is implemented on all news articles to give you a lighting fast experience if you land on a story via Google and are using a mobile device.
Funding
The service is funded by a mixture of ads and affiliate links. This is a business model aimed at making the service sustainable without having to lean heavily on the challenge of impartiality. You can read more about the overall websites revenue streams (covers the blog and news section) on the disclosure page.
Contribute
If you wish to become a writer or contribute a news story please use the contact link in the main menu.