The Nectar loyalty card is one of the most popular reward schemes in the UK. It takes a long time to build up points but you can buy plenty of decent stuff when you redeem the points.
Here are 4 ways to earn extra Nectar points. They're easy to do once you've got them setup. All methods are free and all you need is your laptop or PC, and of course a Nectar account!
Nectar Notifier Browser Extension – Earn points for searching and shopping
The Nectar Notifier does two things:
Pops up a message when you're on a retailers website who allow you to collect Nectar points
Pays you upto 200 points per month for searching the web (powered by Yahoo), you will receive 1 point per 2 valid searches
The free extension is available for Chrome, Firefox and Mac. When you have the browser extension installed here's how it looks when performing a search.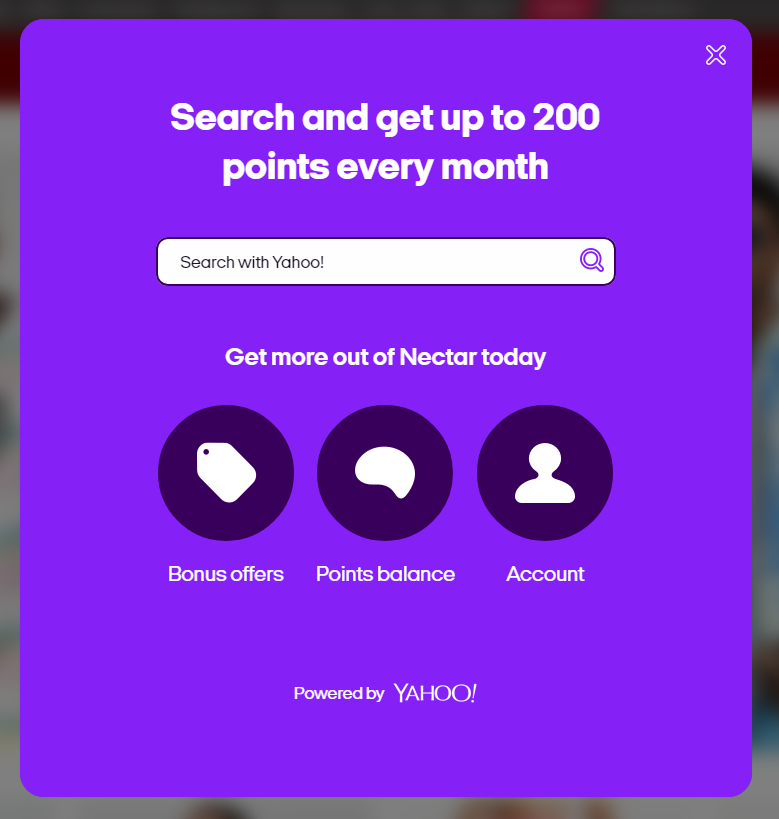 How to setup the Nectar Notifier Browser Extension
Login to your Nectar account
Scroll to the footer area of the platform and click on the link titled 'Nectar Notifier' underneath the 'Discover Nectar' header
Read more details and the FAQ's about the browser extension so you're clear on how it works
Click the 'Add to browser' purple button and it will redirect you to the add-ons/extension store depending on which browser you're using
Activate the extension and login
You should now see a small icon in your browser toolbar, click the icon and do your first search!
You will need to reload your browser for it to work on retailers websites to remind you to collect points when shopping on their websites
Nectar Canvass – Earn points for completing surveys
These surveys are great if you enjoy filling in online surveys or you have spare time. You fill in your basic details and then wait for the survey opportunities to arrive in your email inbox. They target potential responders using certain demographics.
Points can take up to 28 days to be added to your balance. For completing your first survey you receive an entry into a quarterly prize draw to win 10,000 Nectar points. Here's an example of how an invite looks.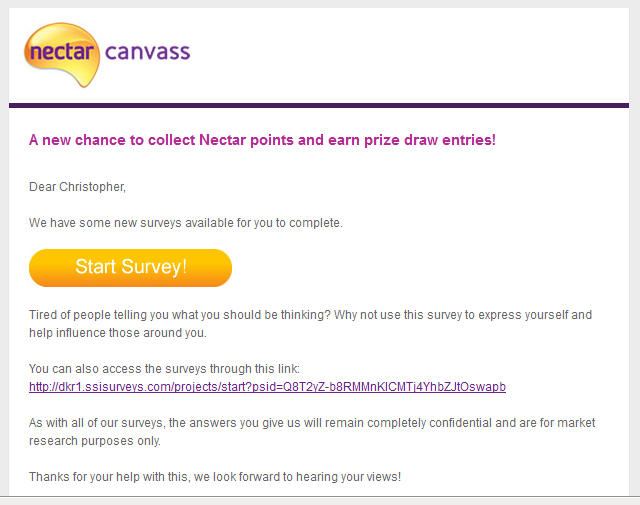 The points earned for the amount of time spent answering the paid surveys is quite fair relative to the other ways listed on this page.
How to get started with Nectar Canvass
Login to your Nectar account and go to this page: https://www.nectar.com/collecting-points/sponsors/nectar-canvass
Click the 'How to get this offer' purple dropdown header
Click the 'Register and start collecting' button
You can either sign-up with Facebook or manually enter your details
Wait for the survey invites and complete your first one
The points will be added to your account within 28 days
Nectar Connect – Receive extra points when you use your bank card
Nectar Connect allows you to connect your bank card to your Nectar account. With Nectar Connect you receive up to 30 points per £1 spent with your linked bank card. Points can be earned when you shop with certain companies, qualifying purchases will vary but can include companies such as Costa Coffee, Just Eat, Dunelm and JD Sports.
One frustrating feature about Nectar Connect is that it uses Open Banking and you're required to renew your consent every 90 days. Therefore it's only worth using if you're happy to use Open Banking and prepared to log in every 90 days to renew the consent. The number of offers can also be quite limited. You can remove your bank connection at any time if you change your mind.
How to setup Nectar Connect
Login to your Nectar account
In the homepage of the platform click on the 'Unlock more points' section that contains the Nectar Connect logo
You'll see more details about the service, once you've read them click the purple 'Get started' button at the bottom
Read and acccept the terms
Select your bank, it will show a small pop-up, click the 'Continue' button to connect your bank
The system uses Open Banking so you'll need to login to your bank to complete the connection
Once you've completed the process it will show a 'Congratulations' screen
A choice of welcome offers will display, click the yellow 'activate' button for each one you wish to benefit from
When you shop at the retailer of the offer you've activated be sure to use the same bank card you've linked your Nectar account to
Put into your calendar the date (90 days ahead) of when you will need to renew consent
Time-limited offers on the Nectar website
The website has a 'partner offers' section containing time-limited offers. The offers change regularly and can be for retailers in a variety of niches. Make it routine to log in and check them out.
Here's an example of a partner offer. This was an example live at the time of creating this article and it doesn't guarantee it will be live now.
How to access time-limited offers on the Nectar website
Login to your Nectar account
In the homepage of the platform click on the yellow 'partner offers' section
Browse the current offers and if any take your fancy click on the 'View offer' purple button for more details
If you're a regular shopper put it into your routine to check the section regularly
Conclusion
These methods can require a bit of effort to set up and get used to. But utilize these 4 methods every month and in 6 months time you could have built up plenty of extra points you wouldn't have otherwise had.
Don't forget that points individually aren't that valuable, you need to build up quite a lot. The trick is to let the background methods (such as the browser extension) naturally build up over time and gradually use the other methods such as taking paid surveys when you're in the mood for it. Make it enjoyable and you will rack up more points and have more fun!