Get the most out of your loyalty card by racking up the points! Here are the ways to earn extra Nectar points alongside your regular shopping habits.
These methods are free and easy to do. All you need is your smartphone or a laptop/PC, and of course a Nectar account.
Nectar Canvass – Earn Points For Completing Surveys
Canvass wilk you points for completing surveys. These surveys are great if you enjoy filling in online surveys in your spare time.
How it works; you fill in your basic details and wait for the survey opportunities to be sent via email. They target potential responders using demographics.
Points take up to 28 days to be added to your balance. For completing your first survey you receive an entry into a quarterly prize draw to win 10,000 Nectar points. Here's an example of how a survey invite looks: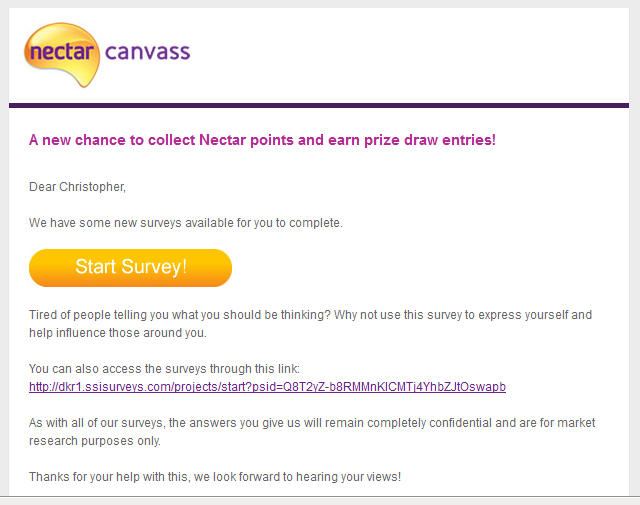 The points earned for the amount of time spent answering the paid surveys is quite fair relative to the other ways listed on this page.
How To Get Started With Nectar Canvass
Login to your Nectar account and go to this page: https://www.nectar.com/brands/nectar-canvass
Click the 'Register and start collecting' button
You can either sign-up with Facebook or manually enter your details
Wait for survey invites and complete your first one
The points will be added to your account within 28 days
Nectar Connect – Receive Extra Points When You Use Your Bank Card
Nectar Connect allows you to connect your bank card to your Nectar account and receive points when you use your bank card with certain retailers.
At MoneyCortex we're not big fans of this particular service because to be frank, it's not very good! Reasons we don't like it:
You have to manually activate the offers with each retailer
You have to reconnect to Open Banking every 90 days!
There are incredibly few retailers
Need some proof of how limited it is? At the last update of this article there was a total of 3 retailers! Here's what offers were available at the time: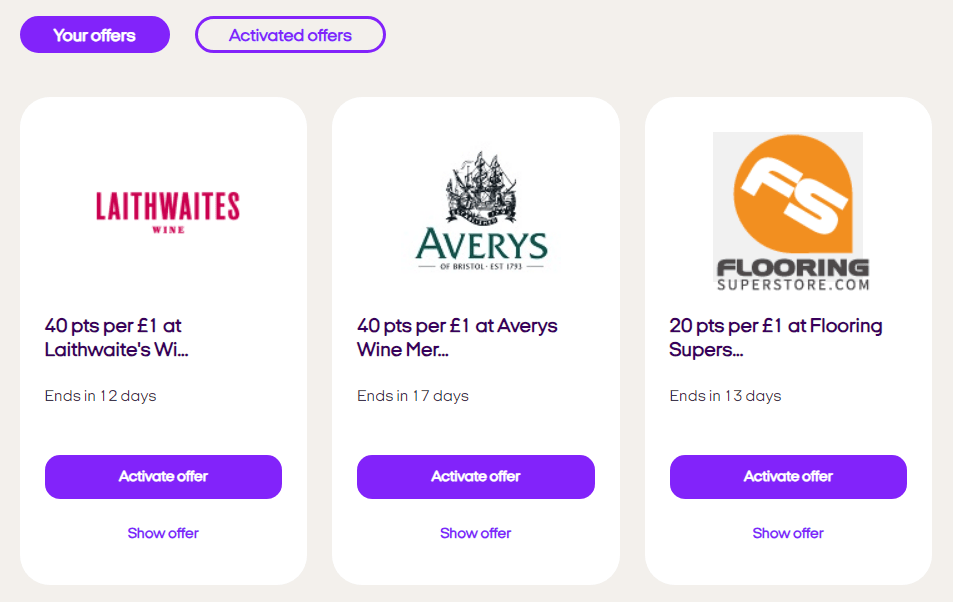 There may be very few offers but if there' one for a retailer you're looking to buy from then it could be a chance to get a bucket load of points as you can see, 40 points per £1 spent! So it's still worth a look.
How Nectar Connect Works
Using Open Banking you connect your bank account to your Nectar account
You receive up to 40 points per £1 spent at selected retailers using your linked bank card
Points can be earned when you shop with specific companies, qualifying purchases will vary but can include companies such as Laithwaite's Wine, Averys, and Flooring Superstore
You can remove your bank connection at any time if you change your mind.
How To Setup Nectar Connect For The First Time
Login to your Nectar account via the website or app
On the homepage click the 'Nectar Connect offers' section
You'll see more details about the service and featured offers, once you've read them click the purple 'Get started' button at the bottom
Read and accept the terms
Select your bank, it will show a small pop-up, click the 'Continue' button to connect your bank
The system uses Open Banking so you'll need to login to your bank to complete the connection
Once you've completed the process it will show a 'Congratulations' screen
A choice of welcome offers will display, click the 'activate' button for each one you wish to activate
When you shop at the retailer of the offer you've activated be sure to use the same bank card you've linked your Nectar account to
Save in your calendar the date (90 days ahead) of when you'll need to renew Open Banking consent
Nectar App – Receive Smartphone Push Notifications Of Offers
The official Nectar app is available on Android and iOS. Having it installed can make it easier for you to find out about personalised offers and take advantage of big points bonuses.
Your personal Nectar card number is also stored on the app so you can use it in-store (but not at a petrol station).
Here's how the app looks in the Google Play Store.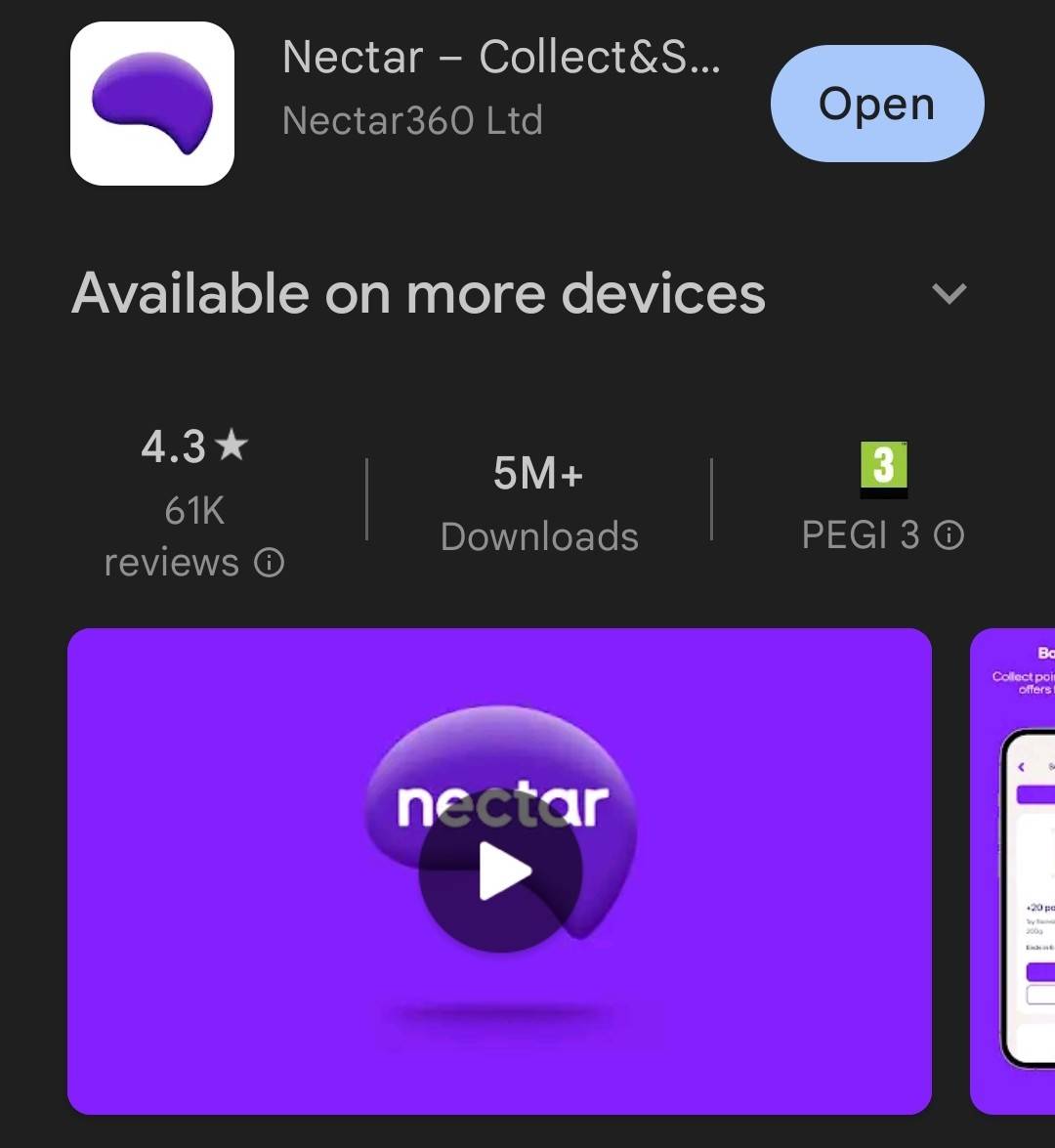 How To Install The App
Open your app store on your smartphone
Search for "Nectar" and look the app name and iconic purple logo
Click to install it
Open the app and type in your email and password
Navigate around it to get used to the app and you're all set!
Time-limited 'Partner Offers'
The website/app has a 'partner offers' section containing time-limited offers. The offers change regularly and can be for retailers in a variety of niches. Make it routine to log in and check them out!
Here's an example of a partner offer. This was an example live at the time of creating this article and it may no longer be live.
How To Access Time-limited Offers
Login to your account or open the app
On the homepage of the platform scroll down and click on the 'Show all partner offers' button
Browse the current offers and if any take your fancy click on the 'View brand' purple button for more details
If you're a regular shopper put it into your routine to check the section regularly
Link Your eBay Account
Shop on eBay? Be sure to link your account to your Nectar account and it will automatically credit you with Nectar points each time you shop on eBay. Zero effort required.
How To Link Your eBay Account
Login to your Nectar account
Search for 'eBay' in the offers
Click the 'Link your accounts now' button
Login to your eBay account and link them up
Get Lucky In Competitions
The chances of winning are slim but you've got to be in it to win it! Some of the prizes can be for a huge amount of points such as 100,000!
Look out for them in your account. Here's an example of how the competitions can look: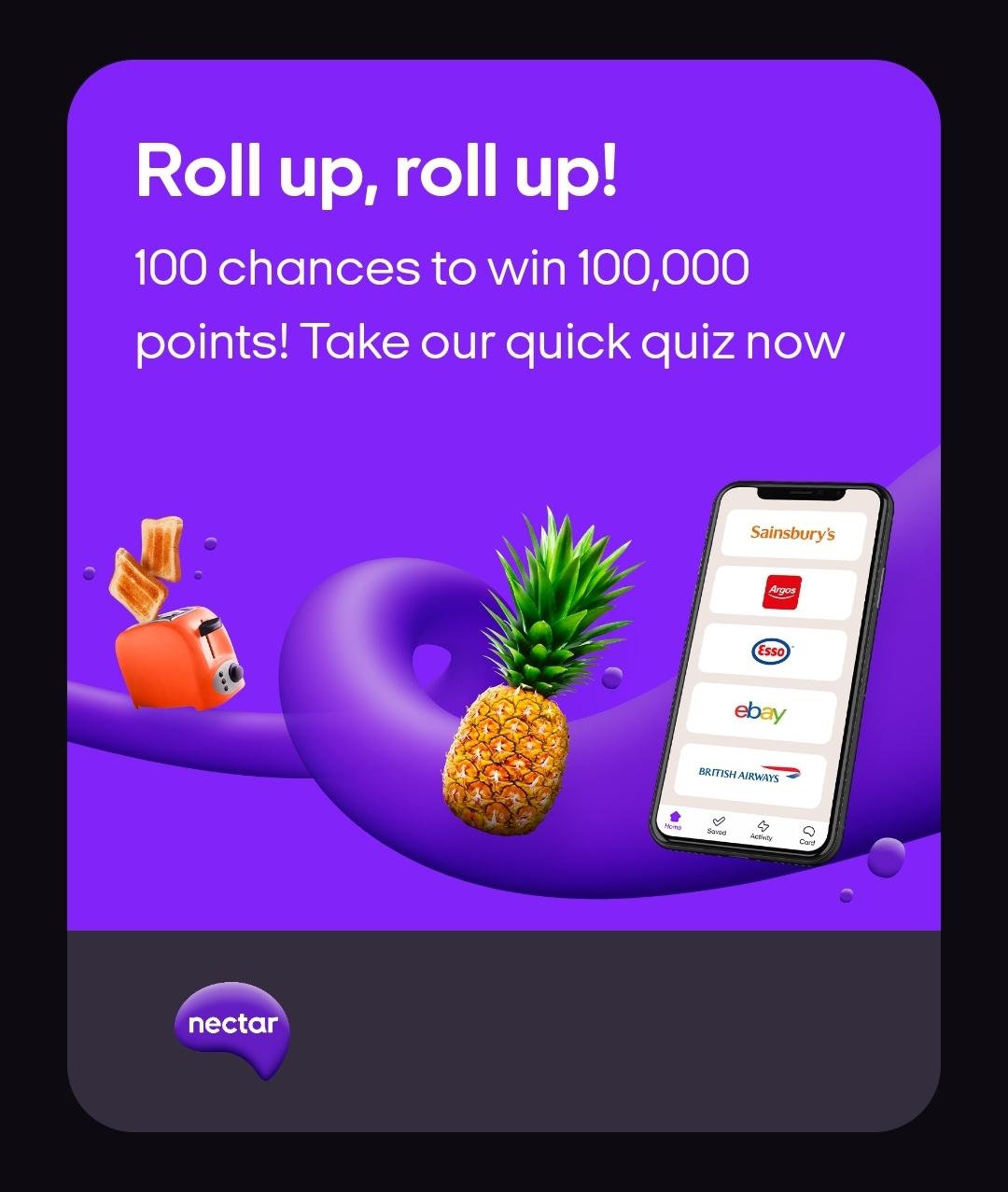 In this comp all you had to do was answer a short quiz.
How To Enter Competitions
Login to your Nectar account via the app or website
Look out for special competitions
Click to read details and enter (often it's a quick and easy quiz)
Enter as many as you can!
And that's it for the methods we know of. Give them all a try to find out what works best for you.
What happened to the Nectar Notifier browser extension?
Unfortunately it was retired so it's no longer available. It was killed off on May 26th 2023. Meaning a very easy and useful way of making a couple of thousand extra points per year has gone!
Can I use the Nectar App when buying fuel at Sainsbury's?
No because using mobile phones on petrol forecourts is forbidden, unfortunately that means needing to keep your plastic card in your purse/wallet.
Who do I contact if I have a problem with my account?
Use the official Nectar website for support, they have live chat, a phone line and extensive FAQs.
Any other tips?
Yes! If you do your shopping at Sainsbury's they have 'Nectar prices' on certain products now. If you shop instore you need to use the SmartShop app, it allows you to scan and bag your items as you go, nifty huh! It will save you a few quid over time if they were products you would have purchased anyway.
Summary
The Nectar loyalty card is a popular reward scheme in the UK. It takes a while to build up points but you can buy plenty of quality things (including your Sainsbury's food shopping!) when you redeem the points.
6 ways to earn extra nectar points online alongside your regular shopping are:
Nectar Canvass
Bank Connect
Official Nectar app
Time-limited partner offers
Link your eBay account
Competitions
Have you tried all of them?
Use these methods every month and in 6 months time you could have built up plenty of extra points you wouldn't have previously had.
Don't forget that points individually aren't that valuable, you need to build up quite a lot. The trick is to let them naturally build up over time (don't keep balance checking) and gradually use the other methods such as taking paid surveys on Canvass when you're in the mood. Make it enjoyable and you'll rack up more points and have more fun!
Updated:
Last update: July 7, 2023