Personal finance blogs can help you improve your financial situation. But you can't use them once, it takes time to learn and act and that requires repeat visits. So what's the easiest way to keep up with them all?
If you like reading lots of different resources it can be tricky keeping up. But if you don't keep up with lots of different financial websites you may miss some golden opportunities.
Most publications have social media profiles but it's a sloppy way to keep up. It's easy to miss updates and you have to deal with all the other fluff on social media too. That means it's not the best way to see new posts.
Ways To See New Personal Finance Articles
Let's look at few different options available to you. All are free. Whichever seems easiest to you is the best way to try first.
Bookmark links in your browser
One option is to bookmark the homepages of all the personal finance blogs you like to follow. However, it isn't the most efficient way to go about it. If you have to open your bookmarks folder each time and click on each website it becomes a bit of a tedious process. It can also be frustrating to let the web pages open up only to find there isn't anything new to read on that particular website.
But using bookmarks is still an option if you want to try it. It can work if you only follow a few websites.
Subscribe to RSS feeds
A much better method than bookmarking is to use the free RSS feeds that almost all websites have. RSS is an acronym of Really Simple Syndication. It's similar to a news aggregator. It allows you to quickly and easily see the latest content from lots of websites.
To subscribe to each website's feed you'll need an RSS reader. One popular option is the free service called Feedly. You can get the Feedly app on your smartphone and also use it on your desktop PC. Search for it in your app store on your device to install it. Once installed you can then login to your account to see all the latest posts you want to see.
If you want to look at all the readers available on smartphones and tablets simply type in 'RSS reader' into your Google Play Store or iOS app store. Plenty of the apps receive positive users reviews.
Once in your RSS reader you can then add the sources you wish to keep up with. Each time you want to read the latest on what's going on at the personal finance blogs you like, simply fire up the app and read their latest content.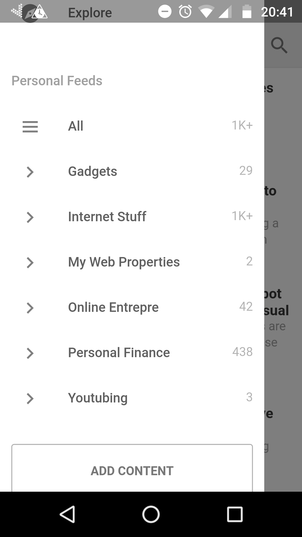 If you read many different websites then you can manually create categories to separate them by topic. Above is a demonstration image showing how it can look.
Another way to keep up with blogs using RSS is by installing a browser extension. Extensions are available for Chrome and Firefox. Some extensions require you to create an account. A popular one on Chrome is Feeder.
Of course, the first website you should subscribe to is MoneyCortex! Because it's the best money-making website 😉 Simply type our website address into your RSS reader and it'll find the feed. If it has any issues try the direct RSS link: http://feeds.feedburner.com/moneycortex
Many blogs have a free newsletter available for readers. The downside to this method is that you'll receive emails when the webmaster wants to send them. Maybe you want to be reading new posts daily but they only send the newsletter monthly. The benefit of this method is it's hands-off and is a good way to avoid forgetting about the website in question.
How to find more personal finance blogs
If you're part of the world of personal finance using websites such as Reddit you'll naturally come across some quality resources. You can also search in your preferred search engine for some using keywords. For examples if you're a millennial there are some blogs dedicated to helping millennials with their finances. In total there are thousands of personal finance blogs online. Lists such as the InvestmentZen directory can be useful in finding ones you like.
Hopefully, this helps you keep on top of the latest financial blog posts a little bit easier. It's good to make sure you see as much content as possible. You never know when you may stumble across the one piece of writing that changes your fortunes!
Updated:
Last update: June 8, 2023