Recently I posted ways to reduce plastic in your life and save money at the same time. One way listed was having a bottle for life. It's not just bags for life you know!
If you're in the UK like I am then you may have heard about the Refill scheme, they also use the hashtag #RefillRevolution. Here's how the blue logo looks. To see full details the website is Refill.org.uk.
The idea is simple. Lot's of businesses who welcome you to go in and fill your bottle up for free sign-up to the program and you find out about them by seeing the sticker in their window or by using an app. Refilling bottles avoids purchasing new plastic ones which is good for planet Earth and good for our wallets, plus water is healthy!
Taking a look at the app
When I looked into the scheme I noticed in the Google Play Store the app has some terrible reviews. At the time of writing it has a total rating of 2.8 out of 5 from 180 reviews. But app store reviews can be unreliable so I've downloaded it and tried it myself. Here is my review.
I can't comment on the iOS version of the app because I'm an Android user so this is strictly about how it performs on Android.
When you first load up the app it guides you through a few scenes to get you settled in and then finishes on the map with the menu across the bottom of the screen. Here is how it looks on my smartphone.

The blue circled numbers represent the number of refill stations in that area. You click on the numbers to delve deeper into that area to eventually see each individual shop which is part of the campaign. If your GPS is turned on you can also instantly go your current location. As you can see from the map thousands of businesses are involved.
Along the bottom you can see the menu which also contains the 'Get involved' button and the 'Account' button. They work nicely. Using those pages you can contribute to the scheme and learn more about it. Each time you use a refill location and log it on the app the scheme receives a 13p donation (it's a not-for-profit organisation).
Unfortunately the problems start when using the map feature.
For a start after just a minute of using the map, it started to get laggy and clunky to use. As I tried to move around it was very laggy and not nice to use. Not a good start. I also immediately noticed a double entry for a location. It had a number '2' representing 2 businesses in that area. But when I clicked, it was a double entry IE the same business had two listings. Not the end of the world, but still not encouraging to see.
Not a great start then but I kept looking around at businesses in areas I use. This is where more issues came up. Some businesses have an orange outline saying they are "Refill Plus". What does that mean? I have no idea, it doesn't explain. I used google to search their whole domain for the phrase but apparently they don't explain it anywhere on their website. So who knows.


Back to the app. When you click for detail of a company this is what you see.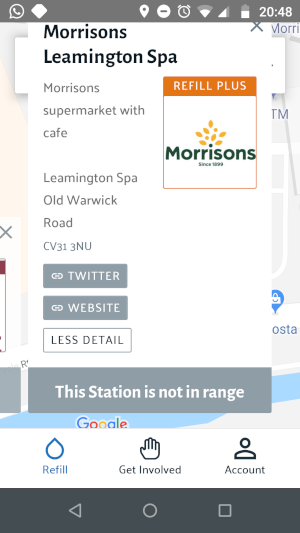 At first glance I thought it seemed useful. It shows the exact address of the shop and name and logo of the retailer so you can spot them on the high-street if you're not familiar with the area. Why there's a twitter link I'm not sure, failing to see the use of that. But the most annoying bit is the "Website" button.
I expected when I clicked on "Website" it would take me to a webpage perhaps explaining how to go in the shop and get a free refill for my bottle. Or maybe why the company are part of the campaign. But no. It literally just takes you to the main groceries homepage of Morrisons. Completely useless. If I'm standing in the high-street trying to find somewhere to refill my bottle what use is that?
For me it should be required that each business taking part supplies information for each location listing explaining how to get your refill. It's a massive Morrisons supermarket. I presume you have to go to the cafe and ask them because where else would you go. But I don't know because it doesn't explain. Maybe you pop in the loo and use those taps!
I think it'd be a really useful feature if each listing had an explanation of where you go in that particular shop and who to ask to refill your bottle for you. Instead you get useless links to Twitter and their homepage. It says on the Refill website FAQ's something about locations being a "publicly accessible" tap, it seems to suggest some taps are in a public area where you refill your bottle yourself and others the staff will fill the bottle for you. Why isn't that explained for each location! Do I ask the staff or look for a tap?
So to summarise the map feature. It does work in terms of helping you find retail outfits part of the scheme. But it's clunky to use and the information about the businesses isn't much use. Very disappointing because it feels sloppy and like lost opportunity.
A review of the scheme overall
The campaign seems good natured. Fundamentally it's a really good idea. We need to be using less plastic bottles, schemes like this will help. On a personal level it can also save you a few quid over time and help you drink healthy water rather than buying sugary drinks off the shelf.
The main website works well on desktop. Unfortunately, the execution of the map aspect of the app feels really poor. Yes the app is nice to use when you first download it and the layout is decent but the actual map functionality itself, the vital ingredient isn't good enough. Which brings me on to how I think you can get the most out of the Refill campaign.
But overall it's a good scheme.
How you can get the most out of it
So do I think it's worth getting involved? Yes absolutely! As I mentioned previously, it's good-natured and makes sense.
First you need to get yourself a bottle that will last a very long time, many years. So pick one that looks damn sexy! If you buy the official Chilly bottle from Refill they get £10 per bottle sold. Here's the product listing on the Chilly website. It looks nice I think! There's also plenty of really nice bottles on Amazon.
Getting involved with this is good because in theory it means no need to go into a shop and buy bottled water ever again! You see shelves of bottled water in lots of retail shops across the country. With this campaign the need for the water being sold in disposable bottles is significantly reduced.
If you regularly go to places you don't know then having the app could be handy. You'd just have to get used to it not being that good. But if you shop in the same places most of the time, as most people do, then you could get used to filling up in the same places. In that instance I don't think even have to bother with the app if you don't want. I can't see anywhere in their app or on their website it says you have to use the app. That would, of course, mean the campaign missing out on a 13p donation each time you fill up though.
Getting used to going into a shop and getting your water bottle refilled when out and about would take time. It's like forming a new habit. But over time if you get used to keeping your water bottle in your car and your bag and you use the same places to refill, it should become a completely normal part of your routine!