Last updated: July 25, 2021
Maximise the number of entries you get into the prize draw
Topcashback holds multiple competitions per year with some excellent cash prizes on offer. Head over to Topcashback now to login or sign-up and see if a competition is currently live. Here
It's an Easter competition and there are lots of nice little prizes to be won. You can get anything from a teeny tiny £0.10 all the way up to a cool £1,000. In total there is 10 grand to be won between all the members!
The competition will close on April 17th 2017 so if you are reading this page after that I'm afraid you're too late for this one. However, they do hold these sorts of events throughout the year so it's still worth checking their website.
How do you take part and win?
You will need a bit of lady luck to be a big winner. There are actions you can take to give yourself the maximum chance of picking up some winnings even if they're only small prizes.
Each day you log in to Topcashback there will be a daily clue. If you visit the page that the clue represents then you can click on a hummingbird and you may win something. At the minimum, you get an extra entry to the mega draw. Be sure to log in every single day for the different daily clues.
There is a nice little time saver you can do to make this easier. Here is a video during the Christmas competition demonstrating how it's done. It doesn't really work if you login first thing in the morning though, the afternoon is best.
That cheeky trick should save you a bit of time each day.
Want even more chance of winning?
Tip 1 – set an alarm to remind you to take part everyday
Be sure to log in every single day and use th method above to save yourself time. Note it down in your routine so you remember to do it. Or alternatively set an alarm each day in your smartphone.
Tip 2 – share on social media using your referral link
Share the details of the competition on social media if you use Facebook and Twitter. But there is a slight twist to my method! Doing it my way gives you an added benefit.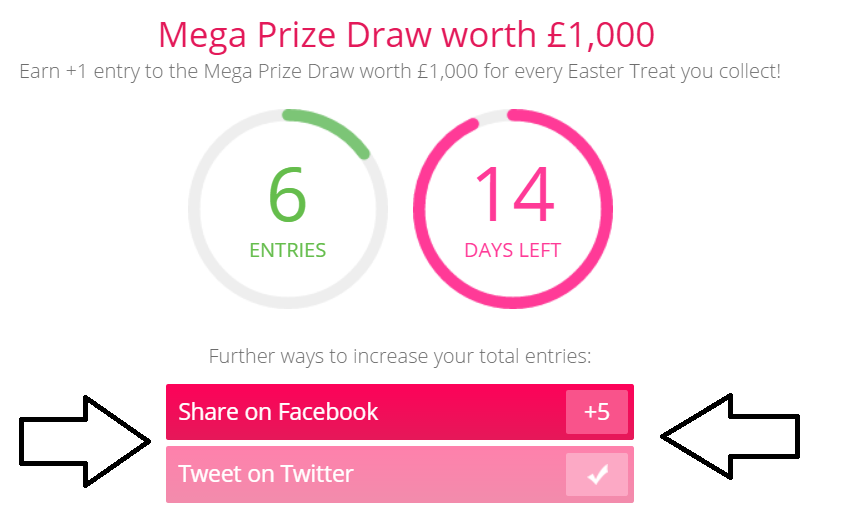 To start with; log in to Topcashback and go to the competition page to find the sharing links. What you do is click on each one to open up a page of the social media website. It will have some text and a link but you don't have to use that! This is where the extra opportunity to get more money comes in.
For a start write in your own text, something a bit more unique and try to make it appealing to your followers. Then remove the default link and put in your own affiliate referral link. You can find that by going to the 'Account' section and then clicking on the 'Tell-a-Friend' option.
Hit the send button once you've crafted your message. There are 3 benefits of this:
You get 5 bonus entries to the grand draw.
You are helping your friends potentially win money too and sharing a great website with them.
If they join through your link you will get extra money!
Well worth doing for not much effort.
Tip 3 – keep your fingers crossed
Okay, it probably won't work but hey you never know!
Whilst we are on the topic of cashback if you didn't see my recent post then please also read about taking advantage of cashback bonuses to squeeze a bit of extra money for very little effort. That way if you are a winner you may be able to bump up your winnings by a few more percentage points!
Good luck!