An easy way to get extra money into your bank account in the UK is by taking advantage of cashback on purchases you make. It's a guaranteed way to increase your income by a small amount.
The most popular website for free cashback in the UK is TopCashback.co.uk (about). Hundreds of companies give you the opportunity to get more pounds into your bank.
There's one little thing you can do to increase the total cashback you get. It only makes a small difference but it's still a good habit to get into. And that thing is…
Plan Your Withdrawals In Advance And Pick The Juiciest Options
When your money is withdrawable you get a choice of methods for receiving your cash. This is where this little trick comes in. Here are screenshots to demonstrate how you can use this opportunity.
The withdrawable balance is £16.72 in this example. That's the exact amount that'll be received if BACS or PayPal are used.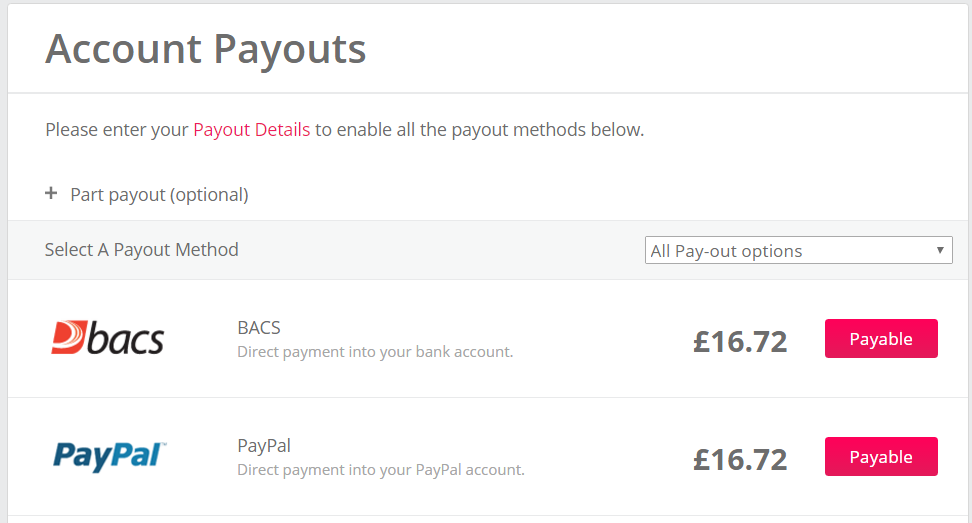 But there are other choices too. You can use something called the 'Reward Wallet'. This is where the opportunity to get extra money comes in. You just have to make sure you've planned ahead.
For example, you'll get extra cash if you pick retailers such as Amazon, Boots, or Argos. The payout is even higher for flights. Be aware that the retailers can change over time, these screenshots are just an example.
By taking advantage of this opportunity it means the total cashback you'll receive will be higher in comparison to the original percentage you thought you were getting from retailers.
How To Get The Most Out Of This Simple Opportunity
There isn't much point in picking Amazon or one of the other retailers just for the sake of it. You actually need to have something to buy for it to make sense to do this. That's where planning ahead comes into it.
Think of things that you'll need to buy in the coming months. Whether they be household goods or clothes or whatever. Leave the money in your TopCashback account until you're ready to buy those things. Perhaps you could wait until an annual sale event is happening, such as Black Friday.
When you reached the time you're ready to buy, cashout using the Reward Wallet. This is a great way to boost the value of your cashback, sometimes it can be all the way up to 25%!
If you want to make sure the total available to you is as high as possible remember to also complete as many offers for the online slots websites as possible.
Calculate Your 'Real' Cashback Value As You Shop
If you know the cashout method you'll be using then you'll be aware of it while you're shopping. If a retailer is offering 5% cashback and you're buying something for £100 then your initial cashback will be £5. But if you've planned to use a retailer that'll give you a 6% bonus on your cashback balance, you'll actually receive £5.30. It's not a big uplift but over time it all adds up and it's extra money for nothing.
Your Turn To Act!
Don't just read about this and not take action, it's your turn to act right now! If you aren't a member of TopCashback then join now for free and get racking up the cash. If you are then log in to your account and explore the potential of what you could buy and plan ahead of how you will withdraw.
You need to look in the 'Reward Wallet' area for the retailers that are currently available. Do it now!
Extra Tip: Look Out For Seasonal Competitions
Remember to also take advantage of competitions the company hold multiple times per year. They don't have them very often but they give out worthwhile prizes. This could boost your earnings even more if you're lucky. Take a look at the MoneyCortex article on how to take part in the competitions in a way to give yourself the best chance of winning.
Updated:
Last update: July 27, 2023