UPDATE: The data below was recorded in February 2017. In April 2020 Slidejoy sent a mass email saying they'll no longer be operating in my region (United Kingdom) as well as some other regions. For that reason I'm no longer earning any money from them and have uninstalled the app from my smartphone.
The content here is kept for historical purposes in case the app is relaunched.
The latest test I decided to do was for an app called Slidejoy. At the time of writing it's only available on Android devices. Here I will review my experience and share with you how much money I've earned.
To start earning your own money from Slidejoy download the app via the Google Play Store. Be sure to pick 'normal' mode unless you want to donate your earnings to charity.
What Is Slidejoy?
It's a very simple app to use and is free to download. Once installed you activate it and then on your lock screen it will sometimes show static adverts, they don't have any sound. To give you an idea, here's a screenshot of how it looks on my Samsung. To enter your phone as normal you simply swipe to the right.
There are other extra options to make money inside of the app, such as doing surveys, but I'm not interested in doing those. I've not even tried them so I can't comment on that aspect of the app. Once you've earned at least $2 you can cash out via Paypal or gift cards.
First off let's talk about the test details. I decided to run it for 21-days. It took place in February 2017. I'd had the app installed for a while and wanted to properly record how much money it would make so I could give you a factual representation. That's why my starting balance was already 3260 points, and not zero. All I did was activated the app and recorded my balance each day at around 7pm. That was literally it, I had to do nothing else.
Profit Made Using The Slidejoy Application
Above you can see a table showing how many points were received per day. If you can't see it very well, click on it for the full-size version.
As you can see, if the numbers stayed the same for a year, it would bring in just over $30. Not bad for doing absolutely nothing. There's no cost whatsoever meaning it's 100% profit.
I've never had any problems whilst the app has been running. It doesn't slow my device down. I guess there are lots of questions you may have about the app, if there's anything I haven't covered, please ask in the comments section further down this page.
Tips For Getting The Biggest Benefits
As always, make sure you use the app naturally, don't try to hack it or game it or do anything that risks you getting banned.
You also have the option to temporarily disable the app. This is perfect for when you are going to be using your smartphone a lot and will be unlocking and locking it regularly. There was one day, on the 20th, I chose to disable the app for 4 hours. I still made 80 points on that day. It's worth doing that sometimes to avoid getting annoyed with the app.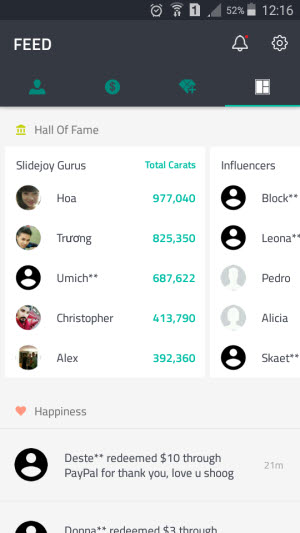 If you wanted to maximize earnings you will need to also to do other things in the app such as surveys. For the purpose of this case study I chose not to, but it's an option. The big earners have made a lot of money judging by the 'hall of fame' section of the app. They've all made hundreds of dollars. That's not loose change!
The top tip that I pretty much always give with most things, is to be patient and consistent. Keep messing around with the app and you will lose potential revenue. It will take time for the cash to build up but it feels good when you get paid via PayPal.
How To Download The Free App
Please search in your Google Play Store app on your smartphone for "Slidejoy" to find it. Or visit their official website getslidejoy.com (update: it's no longer active) for more details.
If you like reviews like this one and want another money-making opportunity read about the Qmee earnings from clicking on search engine results. It may be another way for you to make extra cash there too. If you like these sorts of apps then also take a look at Google Opinion Rewards.
Would We Recommend Slidejoy?
UPDATE: Slidejoy is no longer available in most regions, please see the text at the top of the article.
For most people, I'd definitely recommend giving it a try. It's the true definition of money for nothing. I'm in the UK and at the current exchange rate it'll bring me in over £24 per year. On a sim-only 12-month contract with EE that's £10 per month. Effectively meaning 2 months of free use of my smartphone just by running this app. Sweet!
There are some people I wouldn't recommend it for though. If you are an absolute smartphone junkie who is always on and off their device you might want to give it a miss. It could start to bug you having to swipe right each time you unlock your phone.
As always please remember that my results are specific to me, yours will probably be different. They may be better, they may be worse. I'm in the UK and use a Samsung A3 phone. I don't know if location affects how much you earn and stuff like that.
I hope this test helps give you a clear idea of if this is a money-making opportunity for you.
Updated:
Last update: June 29, 2023