Swagbucks is a website that gives you opportunities to make extra money. Here I'm going to review my earnings of Swagbucks so far and share what I think are the best tips to maximise your earnings. We're focusing on surveys in this article.
This article is for people looking for new money-making opportunities as well as those who are already members and want to compare results. Let's get stuck in!
How Swagbucks works and where it's available
It can appear to be a complicated website to use at first with it's clunky menu. But it's not really, the design of it is just a bit busy. You join the website which gives you access to the member's area.
In the Swagbucks member's area you can do things such as; take surveys, play games, answer a daily poll, enter competitions and do shopping. All of these activities result in you getting points. Points can then be converted into real cash or gift cards.
Here's the process to get started:
Verify your email and check all your account details are correct (important so you can get paid)
Get used to the website by navigating around and checking everything out.
Then get on with earning real money in your preferred ways.
Swagbucks is available for people to join for anyone over the age of 13 who lives in one of these 11 countries; United States, Germany, France, United Kingdom, Ireland, New Zealand, India, Portugal, Spain, Canada, and Australia. I'm in the UK so everything referenced in this review will be relevant to that locality.
Payment proof
Trust is a big issue in this industry. Knowing you're going to get paid is critical, nobody wants to be scammed. Most payouts I've received via Amazon gift cards because it costs me fewer points compared to cash. But the latest one I chose to withdraw via Paypal because I wanted the cash. The Paypal withdrawal was actually the fastest I've ever received from them! Here's the screenshot of my payment proof history.
I've blanked out the order numbers in case they are security sensitive, I have no idea if they would be or not! I've also put a watermark over the image so you know it's legit.
The vast majority of those earnings have come from completing surveys, playing games, and doing Swago competitions. You can see one of them says "Refunded". That was because my account wasn't verified after I'd changed my email address so they refunded the order. Once I verified my account it was then successfully processed and paid.
In my time using Swagbucks I've never had any payment problems so I personally trust them and think it's safe to use. I've not experienced any issues and I've now successfully requested a fair amount of cashouts.
The most profitable ways to make money at Swagbucks
The problem with a lot of Swagbucks reviews online is that they list the "possible" ways to make money. But conveniently don't share proof of the actual earnings. This is because their interest truthfully is getting you to click on their affiliate link. Therefore they will tell you that you can earn money by watching videos. But not tell you that the payout is horrifically low! It's never worth your time. It's not that these bloggers are necessarily dishonest, it would just be fair to say they are efficient at leaving certain details out.
I only use a handful of ways to earn. In my experience the most profitable ways to make money are to; enter Swago competitions, play games, do the daily poll, use free codes and answer surveys. I've only ever done shopping once. The reason I use those methods is because they're the ones that in my experience are worthwhile. Even if they're low paying they're super quick to do. I don't watch videos, I don't use the Android app, I don't shop, and I hardly ever use the search function.

The biggest earner for me has been doing surveys. That's why for this page that's what the focus is on. Here is a place to focus purely on that.
I thought it would be fun to collect some data and share it with you. Swagbucks use external survey providers, and supply an expected "Time to complete" for each one. Inevitably your personal demographic doesn't fit all surveys so plenty of them you won't qualify for. But on average how many can you expect to qualify for? And how accurate are the "time to complete" numbers?
Earnings test and results
First up let's just be clear on how this test was done. All surveys were completed on a desktop PC. I'm on a fibre broadband service but it's a fairly normal package, not one of the super-fast ones so it's not like surveys will be loading at a mega-speed or anything. I'm in the UK. Each time was recorded from the moment I clicked the 'Start survey' button and the stopped the moment I landed back at the Swagbucks website. I took my time with each one to make sure I passed all attention checks and gave honest feedback.
In total there were 20 survey attempts done. Here's the table of results.
| Points On Offer | Expected Time Length (In Minutes) | Did I Qualify? | Actual Time Survey Took (Minutes And Seconds) |
| --- | --- | --- | --- |
| 100 | 11 | yes | 9:57 |
| 200 | 5 | no | 1:17 |
| 75 | 15 | no | 2:19 |
| 40 | 6 | no | 0:21 |
| 50 | 8 | no | 1:50 |
| 40 | 7 | no | 0:42 |
| 25 | 5 | yes | 1:58 |
| 20 | 3 | no | 0:49 |
| 30 | 10 | no | 0:35 |
| 100 | 20 | yes | 3:41 |
| 75 | 15 | no | 0:25 |
| 25 | 5 | no | 0:38 |
| 40 | 10 | yes | 7:01 |
| 50 | 10 | no | 0:14 |
| 50 | 9 | no | 1:16 |
| 20 | 3 | no | 0:44 |
| 35 | 11 | no | 0:27 |
| 20 | 5 | no | 0:31 |
| 89 | 21 | no | 0:39 |
| 50 | 8 | no | 0:38 |
Analysis of what happened
Let's review the numbers then. First, you can see that I only qualified for 4 of the 20 attempts. I think that is fairly representative of my overall experience over the years. Generally, you can expect to not qualify for most surveys. The good thing is that each time I didn't qualify it didn't last long. 4 of them were just over a minute long which is frustrating. However, Swagbucks will give 1 bonus point for failed survey attempts for your first few of each day.
You can see that I did qualify for 4 surveys. What was fantastic about those was that all 4 took a significantly shorter amount of time than was expected! One of them was ridiculous. I expected it to take 20 minutes and it took 3 minutes 31 seconds. Awesome!
On this occasion I also got slightly lucky in that two of the surveys I qualified for were higher-paying ones. Not only did they not take long but they paid well.
Actual earnings were significantly higher
Now comes a little extra nugget. You've got this far down an article which often doesn't happen in this day and age where so many of us seem to have the attention span of a goldfish! It's time you were rewarded.
Each month Swagbucks run a free game called Swago. It's too long-winded to explain it all here. But a result of it you often get survey bonuses. Such as 20% or 50%. Other times they also do campaigns where you get survey bonuses for no reason, it's probably just to try and lure more people back to get the surveys filled out.
I only do surveys at these times when I can get bonuses. I highly recommend you do too. The majority of the time I just don't think the regular survey pay-outs are worth it. The earnings are too low and you don't qualify for enough surveys. You've seen the table above of the points earned from surveys I did qualify for. But here's a screenshot of all earnings with the bonuses also added.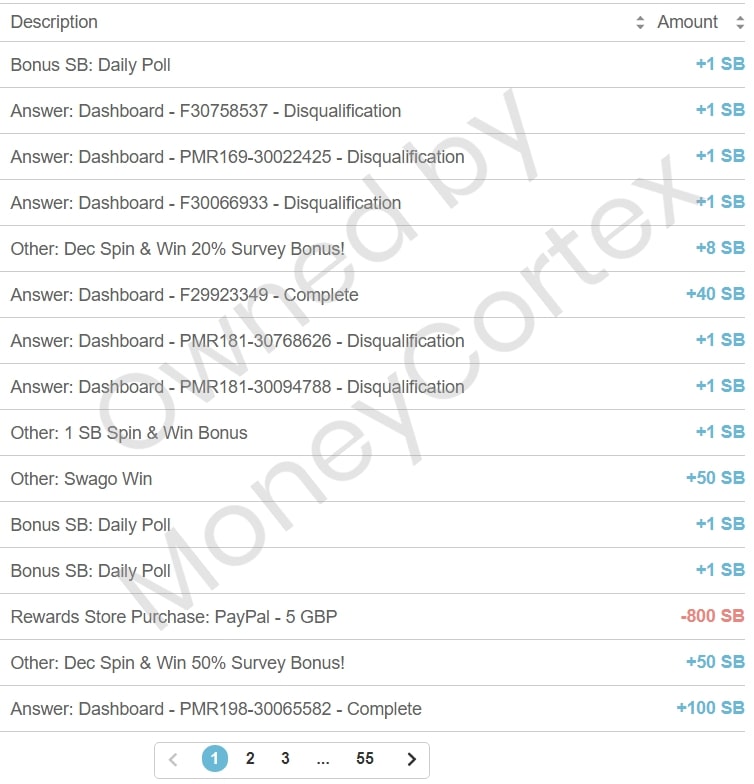 Let's break it down exactly what you see in the earnings proof above. For a start, the -800 is where I cashed out via Paypal. All the 1SB numbers are where I didn't qualify but they still gave me a free bonus point. You should also be able to see the bonuses, one says "50% Spin & Win Bonus" and the other says "20% Spin & Win Bonus". These are as a result of the Swago competition.
So when you see the Swagbucks results above in the table, the survey that paid me 100 points, actually paid me 150 points. Nice!
If you add up the 4 surveys completed in the table that I did qualify for, the total points amount is 265. But in actual fact, once the bonuses were included I earned 358 points. At those sort of earning rates, it doesn't take long to cash out.
That's it for the data, let's move on to some tips for you.
Tips to maximize your profit from doing surveys at Swagbucks
Advanced tips to maximize your Swagbucks earnings:
Use your time wisely, don't mess around with unprofitable things like watching videos.
Only do surveys when there are bonuses to boost earnings. That's how to earn fast!
Login and blast the surveys at periods when the bonuses and Swago game is running. Don't login each day and try and do a couple, it's unproductive to do it that way, do them in large batches instead.
Expect to fail to qualify for lots of surveys, perhaps around 80%. With that perspective you'll get less frustrated.
The results on this page are specific to one person. Always do your own tests to see how much you earn.
If you're new remember to always give it time. Far too many people join money-making websites and then give up straight away just because they don't magically earn loads of money immediately. You always have to keep expectations in check as well as discussed here.
Final review conclusions
I hope this honest and detailed Swagbucks review with some real data reported is helpful to you. You often see people complaining they don't qualify for surveys. That's the way it is on sites like this. There's no pre-screening so disqualifications are inevitable. But at least you get bonus points which most other sites don't even give.
When surveys are completed in conjunction with bonuses the pay is generally fair. You just have to cherry-pick the right ones to enter. Aim for the higher-paying ones. As my study showed, the "expected time length" isn't very reliable. In fact, it tends to be quicker! Of course, everyone has different computer literacy skills so you'll inevitably go at a speed specific to you. But I'd expect most people to finish in roughly the same amount of time. I wasn't rushing in my test.
Swagbucks are one of the biggest rewards platforms, if not the biggest, it has a huge amount of loyal users for a reason. Hopefully, with the information here you can maximize your earnings for time spent on the site. And just remember that I don't exhaust all earning opportunities, not even close, I don't use the smartphone app or do the shopping or searches and I don't use it all the time. But the way I do use it means fair earnings. Use it in the same way and see what results you get.
Updated:
Last update: April 28, 2023