In this blog post I'm going to be reviewing my favourite website for making money from surveys. I've been using it since September 2016 and as you can see from the title I've now made over £200. I think it's one of the best survey websites, it can be joined by people in the UK and in many countries around the world.
For this review of Prolific Academic I'll be looking at the positives and the negatives of using the website. If you also want to start making money from them here is my affiliate link to get involved: Join Now. You can be a full-time worker, student, or retired – it doesn't matter, anyone can join.
Once you are a member of the website you can fill out fun and interesting surveys in return for money. It's as simple as that!
Proof of earnings and payouts
In order to use the website you will need to be over 18, have a Paypal account to receive payments and will need to verify a phone number (done via automated system). They accept people from most countries around the world including the UK, USA and most of Europe.
A vital part of any website is whether they are trustworthy. I've never had any problems receiving the money owed to me. Here is a screenshot showing how much I've made so far. Below that is my latest Paypal screenshot showing proof of payment.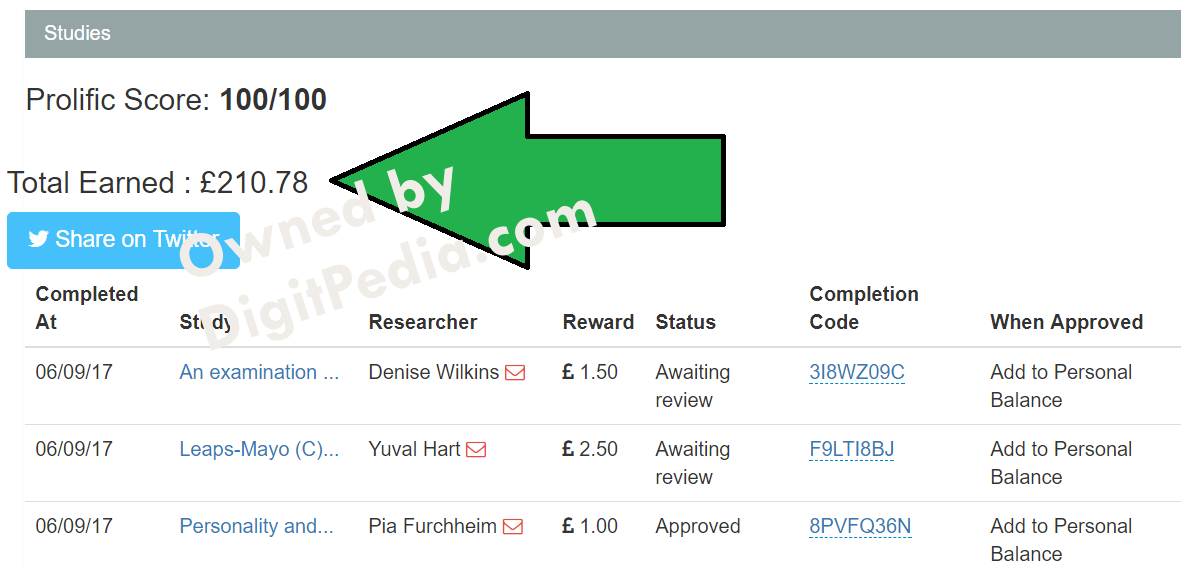 If you can't see the photo very well you can click on it to see in full screen.
Review of the positives about Prolific Academic
For me there are a couple of massive positives that need to be mentioned straight away.
Compared to other survey sites the pay is alot higher
Lots of the surveys are either fun or interesting
In a way, I don't really like using the word "surveys" for this company because lots of them are things like scientific tasks. Or they ask for your opinions about moral situations. They are very different to what other traditional survey websites ask you about. The others tend to be about buying habits and that sort of thing. That's not what it's like at Prolific, it's a lot more interesting. That's why they use the word "studies".
The very fact that pay is higher than average and the studies are fun to do is already what makes this one of the best survey websites. On top of that the screening system they have on your profile means you won't waste time being screened out of surveys.
Payments normally take around 5 working days and the minimum payout is only £5 via Paypal. It's always good to know you're going to receive what you're owed.
Joining and using the website is easy to do. I find their website very reliable and haven't had any problems at all. You also have the option to contact the researcher directly for any of the studies you take part in should there be a problem.
Review of negatives
One of the downsides is that sometimes the allocations for surveys get taken up very quickly. Especially if the researcher only needs 30 or 40 participants.
Don't be worried if you keep going to the "Available Studies" page and there is never anything available. It will go like that sometimes. This is how the page will look.

I've previously logged in a few times per day for days on end and seen nothing! Other times I login and there are 3 available! It will vary over time. Just keep trying and you'll see for yourself.
Please also remember that how much you can earn will depend on demographics. Different members will have surveys available to them.
At this time there is no app to do studies on your smartphone.
How to maximise your earnings at Prolific Academic
From what I said in the last section you can probably guess what my first tip is going to be! Logging in periodically throughout the day will yield by far the best results. I appreciate you may have to work or be doing other things in life but if you can make it part of your money-making schedule to check the Prolific website then it will pay off. If needs be, bookmark it on your smartphone and use that!
There are no other real tips that I can give for you to maximise earnings. Obviously you want to try every single study that you see available. Consistency will also be your biggest weapon. If you give up after a week then it's pretty obvious you won't make much.
One of the best websites to earn extra money from
Overall I think it's one of the best survey websites and well worth being a member of. I am happy to use the word "best" for the reasons that I enjoy the types of studies and think the pay is very fair.
This is just one of many decent survey websites that you can make money from. If you are looking for more to join see my survey companies with low payouts table.
If you prefer to watch videos to get a feel for what a website is like I've also published a Prolific Academic review on Youtube.
Any questions please put them in the comments section below. I hope this review has been helpful and you can get on and increase your earnings!