Panelbase is a website that will pay you to complete surveys. It's free to join and available to users in the UK. In this blog post I will do a full review and give tips on how you can earn the most rewards from them.
I've been a member for a while and my total earnings are now over £50. I only use the website sparingly but have still managed to earn worthwhile amounts. Now I have some experience at the website I thought it would be a good time to do an honest review.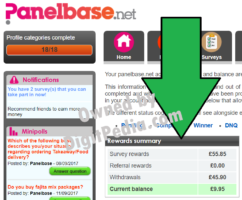 First off here is a screenshot of my earnings so far, just to prove to you that I'm a legitimate user. You can click on it to enlarge the image.
I'm only doing this because unfortunately lots of other bloggers like to review survey websites and tell you how good they are yet they have no proof they actually use them. They only write the reviews to get themselves traffic and affiliate income. Please be aware of that. You can click on the image to see it in full size.
Review of the positives about Panelbase
One of the most important aspects of any survey website is the payout criteria and whether they are reliable. Panelbase scores highly here. The payout threshold is fairly low at £10. I've never had any problems with receiving my reward money via bank transfer. The great thing about bank transfer payments is you avoid Paypal fees.
Payouts per survey are very consistent. Before you attempt to take each survey it gives you a rough guide on how long it should take and how much you will be paid for completing it. This works nicely and the expected time to complete a survey is often accurate.
Doing surveys can be a lonely hobby. Panelbase has a nice community feel to it compared to rival sites. They also run polls for all members. They are fun to do and gain you extra entries to prize draws.
The design of the website is fun and colourful and fairly straightforward to use. It's a nice website to use.
Review of the negatives about Panelbase
The biggest problem by far is the number of surveys that I either don't qualify for or the quota is full. In preparation for writing this review I blasted through the available surveys in my account. In that time I completed 1 survey but was unable to complete 7. That's worse than normal but still gives a good idea of how frustrating it can be.
The problem is you have to go through the process of starting each survey, reading the terms, and entering in demographics information as well as other info to see if you are suitable for the company holding the survey. Each one takes up time. Before you know it you've spent 15minutes trying 5 surveys, answering maybe 30 questions in total and you've not been paid a single penny.
You get an extra entry to the monthly prize draw each time you don't qualify for a survey, but your percentage chance of winning anything is very low. I've never won a penny. I'd rather they had a system like MintVine where they pay you a small amount when you don't qualify. That's completely fair on all members. With the Panelbase system you could have two members who have both failed to qualify for 10 surveys in a month. Yet one gets lucky and wins £50 in the prize draw and another member wins nothing. Despite the fact they both used the website in an identical way. It's an unfair system. But I get that lots of people probably like the idea of winning a decent prize and that's why Panelbase do it. In the name of fairness though it's a stinking system. It's meant to be a survey website, not a lottery. I would rather they kept prize draw entries linked to the number of mini-polls you do.
I've seen other people be disappointed with the number of mobile surveys available. That's not a problem if you are going to be using a laptop or PC but if you are after mobile surveys you may not get many opportunities to earn money.
How to avoid all the DNQ's?
The only way to give yourself the best chance is to answer surveys quickly after they become available. Within the first day of receiving a notification email try and do the survey. That will result in fewer 'quota full' reasons for not being able to complete the survey.
Apart from that there isn't really a way to avoid the DNQ's. They say to keep your Panelbase profile updated in order to qualify for more surveys. But in reality only a minimal amount of screening is done. I can say that with certainty because of the number times I DNQ for a survey for reasons which are listed in my Panelbase profile. For example, one of the surveys I didn't qualify for today was a survey related to gambling. When I started the survey it asked about frequency of online gambling. I don't do it enough so wasn't eligible. No problem. But my Panelbase profile has my details about gambling frequency so if they were screening it wouldn't have shown as a survey I could do in the first place. That proves only minimal screening is done. That's not an isolated example either.
Don't get me wrong, all websites that use external survey providers have this problem of regular DNQ's. I don't want to give the impression it's only Panelbase, it's not. But it happens far too often considering you tell them more than enough details for them to do sufficient screening. The net result is the amount you earn for the amount of time you spend on the website is lower than you'd expect when you first glance at how much each survey pays.
Final conclusion
Ultimately Panelbase is a reliable website that overall pay fair amounts per survey when you qualify for them. For that reason I would recommend it. Don't just take my word for it, they also have great feedback from other users on TrustPilot. However, you will have to accept it's weaknesses and keep it as a backup rather than one of your main earners. If you want to join now the website address is Panelbase.net.
The best strategy for making money from surveys is to be signed up to lots of websites. When you sit down to do some surveys it's always best to then visit them in order of what's best for you. For me I like Prolific Academic the most so will always start with that. Panelbase is worth being a member of. But it's a lot weaker than other sites so I would place it further down in your priorities.
If you aren't yet a member of many websites then check out my list of survey sites based on how low their payout threshold is.
I hope this honest user review has helped you. Any questions please put them in the comments section below.